WhatsApp Bckup Unlimited hereafter. WhatsApp has announced that it is going to
stop their services of backup the WhatsApp data to the Google Cloud Storage
Quota of the users.Every users in
Google have the free Quota of 15GB
.WhatsApp and Google confirmed have come to an agreement.It provides unlimited Backup storage to users.
Rather than 15GB quota
.Despite
WhatsApp is an Facebook owned company.
WhatsApp has confirmed that hereafter WhatsApp data is going to backup in the Google Account on Android with unlimited backup storage.Media such as texts,images,videos and etc.All are updated and backup to the Google Account.
Users have already started receiving mails for confirming the email where you want to backup.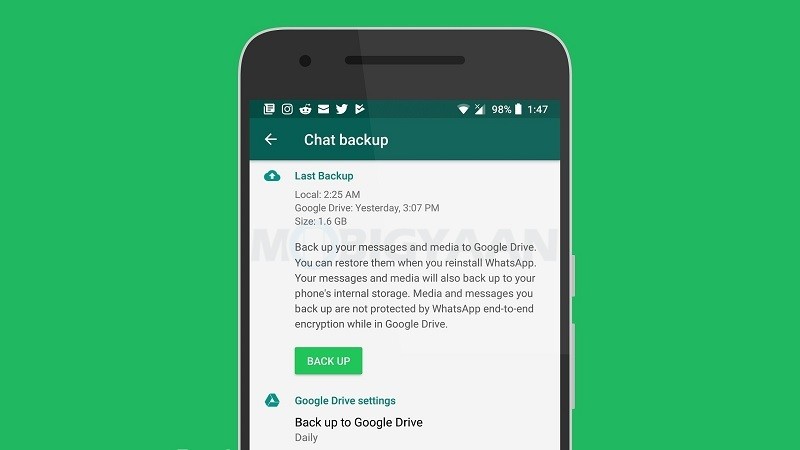 WhatsApp Backup
By november 12 kindly update the backup.
It is a good facility for the users to store the data.
It can be accessed anywhere.Even more secure.
Easily backup the messages and data to the new mobiles within minutes.
Backup are available only two months.if the user is inactive for two months the Backup are deleted.
You also have enough space in device to store the backup.
Google play must be installed to perform the backup process

Iphone users

For iphone users in icloud only 5GB data can be stored for free by apple.where WhatApp backup data is stored here.

WhatsApp privacy

This shows sending and receiving data in WhatsApp is not backedup in Google Drive as End to End Encryption.Soo...... there's that...

If you are running out of data in Google.new plan introduced.one of the best plan Rs.130/month 100GB data is provided to store data.it is merely a good plan from Google