Competition with new technology WhatsApp has introduced a few updates for Android users.Although Instagram gets lots of updates this year.WhatsApp also the facebook owned company introduced some of new updates to make the users friendly with the top social messaging App WhatsApp
Here are some of the Important update you need to know and Make use of the update
Status Advertisement
In all the social networks Advertisement plays a vital part to grow up the revenue of the company.Among that WhatsApp is only app without Ads But things are going to change.WhatsApp has Announced recently that it was planning to play Ads in WhatsApp by 2019.
The main target of WhatsApp Ads is the new introduced feature Status.In that the people who update too many status will get an Ads in between.Those users are the targeted users of WhatsApp.This new update is going to evolve in the Beta version 2.18.303.
Not yet Announced
WhatsApp not yet announced Advertising Scheme.Mostly i believe it will work as that of YouTube Ads.
Questions arised
WhatsApp is an End to End encryption how they can be tracked is an ??? let's see...
Swipe to Reply
This feature is particularly for the group chats.In group chats if we are replying for certain message we need to select particular message and then we reply.this takes time and some will get frustrated.But this Swipe to Reply will let you even faster just by Swiping the message which you want to Reply.Already it has rolls out in Ios.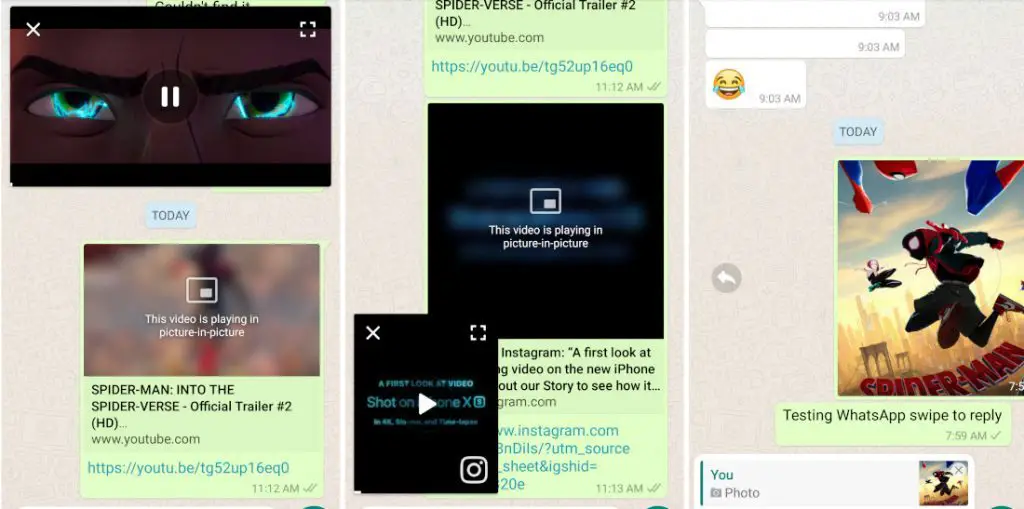 Picture in Picture mode
Till now only WhatsApp videos that are uploaded to the server are viewed in WhatsApp.And links from YouTube,Facebook,Instagram are open in the Browsers.But now it will be played in WhatsApp.Links from Youtube,Instagram,Facebook Videos are Streamed innWhatsApp itself.If you click the link a video player will popup And it will be navigate throughout the screen and it also has Full Screen Mode.
Image Notification
In notification panel only text are viewed but now WhatsApp will let you to view images in the notification panel itself.
Follow my blog for latest tech news TheNextSpy