Can you live without Google??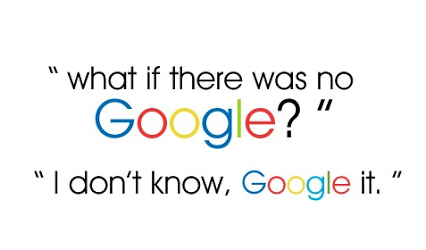 Did anyone think of it anyday What happens if Google could disappear from the Internet?? What would happen?? Now and then Google is one of the members of our family. Since we rely on Google for all our needs. Without Google Just imagine how our life could be?? Quite interesting right??
Think before Google came into existence How people in the world survived??
Ask your grandparents or your parents to get an answer to this question.
In this Blogpost, I am going to cover some of the funny and interesting things about What happens if Google Disappears suddenly from the Internet??
First, let us know how big is Google??
If we get an answer to this question it is easier to understand what happens if Google disappears??
How big is Google??
Google is an American multinational technology company that specializes in Internet-related products and services. Some of its major services are Search Engine, Cloud Computing, Gmail and many more. And it also holds some major technologies such as YouTube, Android, etc. Google was founded in the year 1998. 96% of Google revenue is generated by Advertising programs. Revenue generated by Google in 2018 is

$136 billion

.
Major Acquisition was done by Google
Boston Dynamics – Unknown.

Deep Mind - $500 million.
Also, Google acquires most of the startups to enhance their AI and future technologies.
Google has developed more than 250 products.
What happens in Google in One Minute around the world??
Google hits 4.5 million search queries.

Nearly 4.5 million YouTube videos are watched.

More than 20.5 million ad impression is generated.

PlayStore generates 1.5 million app downloads.

Google+ adds 642 new users. Currently, this service is shut down by Google.

Google spent $16,404 for its Research and Development purposes.

Android App revenue of $2,283 is generated.

More than 100 of Google devices are shipped every minute.
Competitors of Google
Amazon. ( Trillion dollar company)

Apple. ( Trillion dollar company)

Facebook. ( Billion dollar company)
Google Services completely suffered from a massive outage and it went down for 5 minutes. In those 5 minutes, more than 40% of Internet traffic is dropped constantly.
What if Google disappears Suddenly??
Search queries of all the users will be redirected to Bing, duckduckgo, Yahoo. But all will get a crash due to enormous traffic.

Company's which relies on Google products will be disappeared.

YouTube also disappears because YouTube was owned by Google and it hosted on Google datacenters.

No more ola, uber and other transport services. Because most of the maps used by this company rely on Google Maps.

All Android-based Smartphone will be Disappeared.

Websites that are hosted in Google Cloud also disappears.

Google devices may be stopped working.

Whatever hosted on Google servers are completely disappears.

Gmail users will not able to be sent Emails.

Without Gmail, we can't log in to social networks, banks, ticket booking and a lot more. Because Email which uses to log in Completely disappeared.

So no more Social networks,

No food delivery app works because all rely on Google Maps.

All your data associated with your Gmail disappears such as images, personal data.

Half percent of Ads will be disappear from the Internet.
One country will not be get affected if Google disappears. The name of the country is China.
Because China does not use any of the Google products.
So without Google, Our Life would be collapsed.
Comment if u miss anything without Google...