Like Gold and Crude oil Now, water is also started trading on Wall Street in the Future markets. You all know water is one of the essential things for human beings as well as all living beings all over the world. But due to the rise in water shortages across the Earth Water was added to the list of commodities like gold and crude oil.
Why Trade with Water?
Water is one of the essential natural resources. But due to severe Climate change, there will be huge shortages of water in the near future. As wildfires, rage across California made a huge price for water. Currently, the price of water in California was trading at about $486.53 per acre-foot. This is huge.
What is CME?
CME(Chicago Mercantile Exchange)is the world's largest futures exchange. CME has launched the ability to trade in contracts for California's water market. With the ticker NQH2O, the CME(Chicago Mercantile Exchange) Group will dispatch contracts based on the California backwater valued at 1.1 Billion dollars. The market allows farmers, hedge funds, and municipalities to hedge bets on the future price of water and water availability in the American West.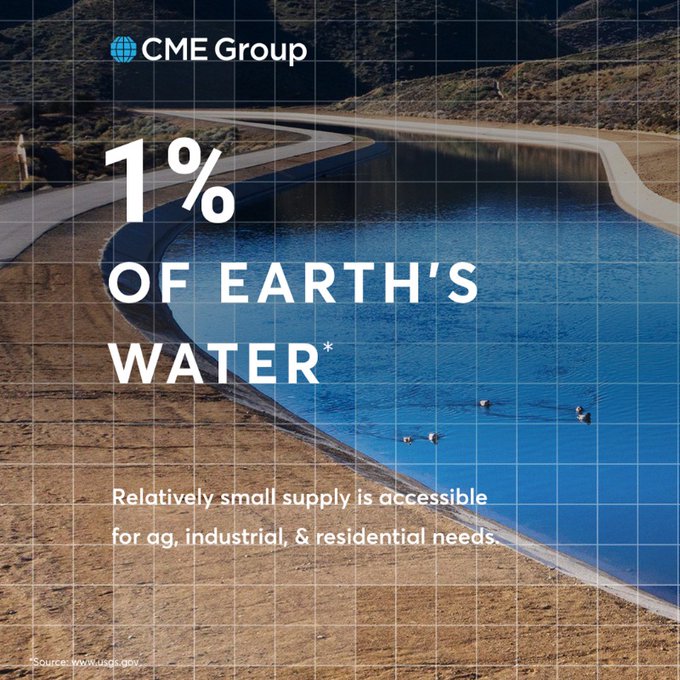 How water contract works?
Each contract would represent 10-acre feet of water or the amount of water it takes to cover an acre over land in one foot of water. by using a metric system that is the amount it would take to cover 40,468 square meters in about 30cm of water. Click here to know more about the contract details
How one can make money using water?
Let us consider, A person buys a single contract of water for $100. Note: This price can fluctuate.
In the near future after 5 years if the demand for water is high so the price of the water increases. So Obviously, the price of the contract also increases.
A study suggests that
"With nearly two-thirds of the world's population expected to face water shortages by 2025, water scarcity presents a growing risk for businesses and communities around the world," explains Tim McCourt, the global head of equity index and alternative investment products at CME.
Save water
Save Planet
Save the Livelihood.
Plant trees.
TheNextSpy
Comment your opinion.