The tools to
find the missing people or tracking the missing people
has been rolled out during the Kerala Floods.The big tech giants Google and Facebook Hands on for the Kerala Floods.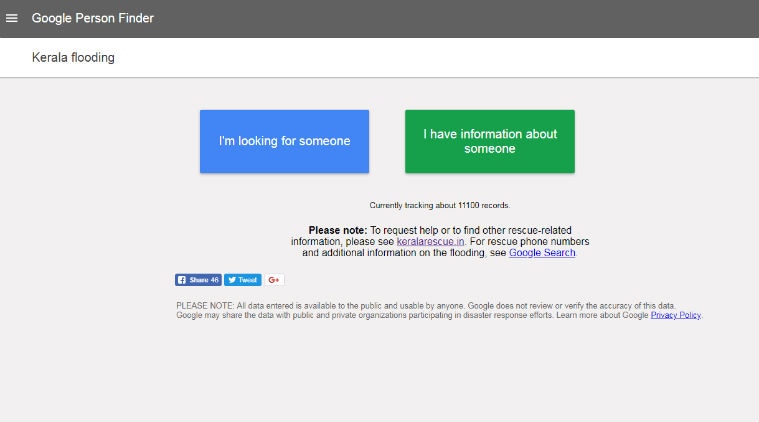 It helps the people the find their loved ones missing in the Kerala floods by tracking or finding them.Facebook also rolls out its
safety check
.
Google Person Finder
Google person finder is used to track or find the people by just using the simple steps.
Go to Google Search engine else click on this #KeralaFloods
Search Google Person Finder Kerala Flooding.
You can either Look for someone in the website.
Or else if you have information about someone mention them.
It has as much Records of the people.
Use this feature of people to save the people.
No need to login or something.
It can be posted as public.
This can be done Either on mobile or Desktop or laptop etc.
Facebook Safety check
Facebook also rolls out its safety check to know the family and their loved ones they are safe.
Just login Facebook.
If you are in Kerala region it will ask for the safety check.
Click safe if you are in safe place
Or else click unsafe
To know the family about your exact status kindly do this.
Facebook has almost 270 million users in India.
Paytm,PhonePe also Pay hands for Kerala floods
They have given the easy way of donating for the kerala floods.

Airtel and BSNL are providing Free Data and Calls for Kerala Users
Thanks to all the company which are helping for the massive Kerala floods hope Kerala will be relieved soon.Pray for Kerala.