State Bank of India is one of the most patriotic bank in India.It is now make an update to its users.Update to your
Debit ATM card
for the main purpose of the Security reasons and to make the bank to the wholesome next level.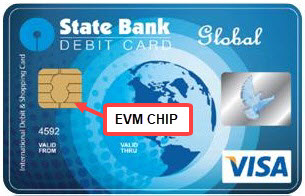 The Bank inform the Debit card users to upgrade to the EMV chip cards.Now the ATM Card is with
Magstripe
.
Deadline to upgrade the card
until 31st December is the last date to upgrade the card.this can be done in online Via Official website of SBI or via home branch.No cost for upgrade.it is completely free.
What is EMV chip cards???
EMV
stands for
E
uropay
M
astercard
V
isa
Which is a global standard for cards equipped with
computer chips
and the technology used to authenticate chip card transactions.
The EMV technology is the Global Standard Technology for the Debit Card Payments.The Debit Card is in built with a Microprocessor Chip.Where the chip stores and protect the Cardholder data.
Why this Upgrade from Magstripe to EMV cards???
SBI has launched a multi platform payments for the users to be flexible in the digital payments like UPI,Bharat QR,SBI Buddy in a single
POS
(Point Of Sale) terminal using
MOPAD
(Multi Option Payment Acceptance Device).This can lead the Bank to provide best payment platform without any inconvineance caused and a
Streamline flow
in the transaction of money.
Difference between Magstripe and EMV cards
EMV cards can be blocked anywhere.
EMV most secure.