Whether you see popup Ads while opening WhatsApp?? then you are get caught
As we are living in the Smartphone era, Where a tremendous way of rapid growth in the Smartphone industry is increasing day by day. Many leading brands are Competing between them to stay successful in the Smartphone Market. But at the same, there was drastic development in the way were hackers and phishers trying to penetrate through our smartphone devices to steal our data.
Here comes a new way in which hackers are trying to compromise your Smartphone devices. But in this way of attack the hackers are not trying to Steal your data but rather than they make a different way to earn money from the user by spreading up malware to compromise the user Smartphone application to
Show fraudulent Ads
thereby generating money by the
Pay Per Click system
.
How this gets Revealed??
The malware name was
Agent Smith
. This malware was discovered by the researchers at the
Israel Security firm Checkpoint
.
What this Malware do??
This malware can get into your device when you download the application from the third party
application store(9apps) and websites
. When your device gets affected by the malware- Agent Smith it starts executed in the background without the user knowledge. After getting executed it targets the user's installed apps such as
WhatsApp, Flipkart,
etc. The malicious app was bound with a legitimate Google updating tool. After the WhatsApp gets targeted by this malware. The malware resembles and alters the code with a malicious update which then used to serve Ads in WhatsApp. And then the user gets Fraudulent Ads due to this Malicious code which is injected in WhatsApp.
The origin of the malware was traced back to the 9apps website
.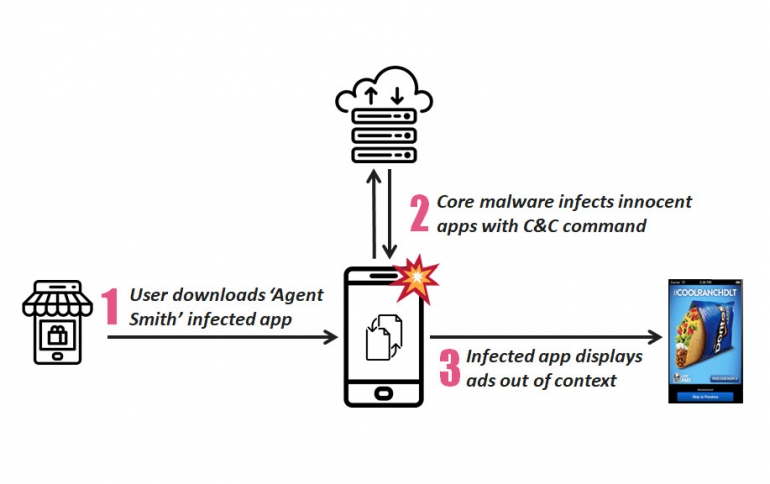 How Hackers gain money??
When you click those fraudulent Ads the attacker was getting paid by the Pay Per Click system. If the victim clicks the Ads the attackers were getting paid for that. For eg: When you are browsing over the Internet you may get to see Ads by Google and Facebook. All are based upon Pay Per Click. As well as SEO(Search Engine Optimization). This is the main motive of this malware.
How to be safe??
Use only PlayStore to download Apps.
Don't use third-party apps and websites.
stay safe.
Brands Affected percentage
Samsung 26%
Xioami 6.1%
Vivo 5.5%
Itel 5.4%
Micromax 5%
Oppo 4.4%
Lava 4.2%
Lenovo 3.2%
others 40.2%
TheNextSpy